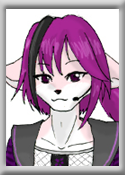 First Name: Shin
Last Name: Kitsune
Japanese: 気付音シン
Pronounce: キツネシン / きつねしん
Romaji: kitsuneshin
Name meaning: 気(を)付(けて) – Take care; careful. 音 – Sound. 気付音 – Careful Sound 信(シン) – Trust. His name means to Trust a Sound that has care put into it.
Type: EDGYLOID (formerly)
Model: X-Y
Homepage: ???
Character Info
Personality
Related Characters
Supplemental Information
Voicebank Info
Voice Configuration
MMD
Terms of Usage
Character Info
Gender: Male
Age: 23 (canon)
Species: ???
Height: 164 cm
Weight: 66 kg
Birthday: August 16th
Likes: Men bigger than him, sushi, coffee, Japanese festivals, giving concerts
Dislikes: rude people, stuck-up people, broccoli, miso soup
Personality
Related Characters
Supplemental Information
Voicebank Info
Voice Configuration
MMD
Terms of Usage