Gabriel Kuratorane
「ゲーブリエル・闇虎音」
Fir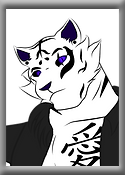 st Name: Gabriel
Last Name: Kuratorane
Japanese: ゲーブリエル・闇虎音
Pronounce: げいぶりえる・くらとらね
Romaji: geiburieru・kuratorane
Name meaning: TBA
Type: TBA
Model: TBA
Homepage: TBA
Character Info
Gender: Male
Age: 21
Species: White Tiger
Height: 250cm
Weight: 100kg (Without long coat) / 10 ton (With long coat and gloves).
Birthday: March/13/1998
Likes: • Dark surroundings.
• Black Roses.
• To help other people.
• To teach and learn.
• Medical chemistry.
Dislikes: • Malicious people.
• See injured the people he loves and highly estimates.
Related Characters: 闇虎音 Crock (Light Singing / Light Append / Innocent Personality) (In process)
闇虎音 Dracon (Somber Singing / Screamo Append / Evil Personality) (In process)
闇虎音 Lion (Terra Singing / Solid Append / Objective Personality) (In process)
闇虎音 Wolf (Vento Singing / Soft Append / Subjective Personality) (In process)
闇虎音 Shark (Aqua Singing / Sweet Append / Stabilizer Personality) (In process)
闇虎音 Fox (Fire Singing / Power Append / Perverted Personality) (In process)
闇虎音 Rex (Somber Singing / Demonic Append / Demonic redemption task) (In process)
闇虎音 Snake (Venom Singing / Opera Falsetto Append / task of self-imposed demonic redemption) (In process)
光音 Lionel (Boyfriend) (Doesn't exist yet because of lack of personnel willing to provide the voice.)
PESONALITY: Gabriel Kuratorane is an expressionless man, due to his powers, he cannot express a single emotion, or he could destroy the universe due to their lack of control. The only way he expresses something is when he sings, when he fights or when he is with people who, he feels, deserve his trust, but he can never express his emotions completely, unless if Lionel Hikarine is with him. Even so, in his interior he is a super tender, sweet and affectionate person, not only with those around him, but also with someone he does not know, he knows that his internal pain is not anyone's fault, and that is why he tries to protect others from pain irrationally, to the point of being able to die for someone.
Supplemental Information
Voicebank Info
Voice Configuration
MMD
Terms of Usage