Gabriel Kuratorane
「ゲーブリエル・闇虎音」
Fir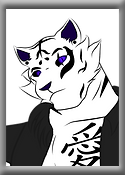 st Name: Gabriel
Last Name: Kuratorane
Japanese: ゲーブリエル・闇虎音
Pronounce: げいぶりえる・くらとらね
Romaji: geiburieru・kuratorane
Name meaning: TBA
Type: TBA
Model: TBA
Homepage: TBA
Character Info
Personality
Related Characters
Supplemental Information
Voicebank Info
Voice Configuration
MMD
Terms of Usage
Character Info
Gender: Male
Age: 21
Species: White Tiger
Height: 250cm
Weight: 100kg (Without long coat) / 10 ton (With long coat and gloves).
Birthday: March/13/1998
Likes: • Dark surroundings.
• Black Roses.
• To help other people.
• To teach and learn.
• Medical chemistry.
Dislikes: • Malicious people.
• See injured the people he loves and highly estimates.
Personality
Related Characters
Supplemental Information
Voicebank Info
Voice Configuration
MMD
Terms of Usage