Fir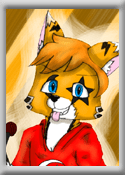 st Name: Ichiro
Last Name: Haruki
Japanese: はるきイチロー
Pronounce: はるきイチロー
Romaji: Haruki Ichirō
Name meaning: イチロー(First Son)
はるき(Brightness)
Type: FURloid
Model: ???
Homepage: ???
Character Info
Supplemental Information
Voicebank Info
Voice Configuration
MMD
Terms of Usage
Character Info
Gender: Male
Age: 19
Species: Kitsune
Height: 175cm / ???inches
Weight: 56kg / ???lbs
Birthday: April 12, 2000
Likes: Singing And Dancing for the world, drawing in his free time, his friends, pineapples,…
Dislikes: Being Alone, Bad People, Homophobic and Racist People, Eggplants
Related Characters:
Megumi Haruki (Younger Sister)
WALTT (Friends With Benefits)
Teto Kasane (Crush)
Itsuto Okaru (Close Friend)
PESONALITY: Friendly and loving, he gets on well with most people, socially outgoing but still a gaming nerd.
Supplemental Information
Voicebank Info
Voice Configuration
MMD
Terms of Usage